How to change starter motor for SYM VS 150cc scooter - Sym 2011 VS 150 question. And would like a service/workshop manual. Jan 17, 2012 2011 Sym VS 150.
Article Index
SYM VS 150
Page 2
Page 3
All Pages
SYM USA / Distributed by Alliance Powersports Inc. 4 WHEELS MOVE THE BODY 2 WHEELS MOVE THE SOUL.
MOTOSPOT Χονδροδήμος Διεύθυνση: Γεωργιάδου 21, Λάρισα 414 47 Τηλέφωνο: 241 025 0730. About travelmoto. I have one more channel a.
It seems the chaps at SYM have got wind of my habits. See normally I begin most SYM reviews with a bit of an easy laugh about the name of the scooter. It's not hard when a scooter's called an 'Uber boy' or a 'Super Duck'. Not any longer it seems. So now what do I do? I haven't got enough talent to come up with something amusing on my own, I need help. Then it dawned on me. It was a puzzle; SYM had simply hidden the real name in a complex code. I've always wanted to be a spy…or maybe a voyeur. Is that the same thing? Anyway I pulled out my copy of 'You wanted to be a spy but ended up a boring git'. A great title for a book I have to say.
After many hours of detailed cypher work and numerous conversations with my contacts in the CIA, FBI, FCC, FAA, STD, ABS, and VTEC, I came up with an answer. It was hidden in the title. What SYM had done was brilliant; they'd used the initials V and S as what seemed like innocent letters. Not so. My exhausting analysis discovered their true meaning. A simple V…no, in SYM's world of layered espionage the V stands for Vanity and S stands for Sprocket. You see…it was there hidden all along. The SYM Vanity Sprocket. What does Vanity Sprocket mean you ask? How on earth would I know; I just work here.

The VS is a direct assault on the Euro and Japanese scooter models. It was obviously a fairly transparent conversation when they began work on the VS. The engineers were simple told to build a 150cc scooter that functioned as well as or better than any of its competing models but cost less. So that's what they built. The SYM designers put their heads together and gave us what we've all been asking for. First, they mounted the battery extra low in the body, then they moved the fuel tank to the front of the bike, the result being; a class leading storage area. If you've ridden scooters for more than a week you'll know how vital storage is. In the VS you can store either two open faced helmets or one helmet and your riding gear. After riding the bike for the week I wondered how I'd put up with the useless storage on most scooters. The only negative is that the under seat area is not very deep so you can only 'just' squeeze in a small sized full-face helmet. Make the storage area just an inch deeper on the next VS and we'll be in nirvana.

Riding wise the VS is pretty straight forward. The 150cc four stroke is slightly more perky than average and usefully more powerful than most 125cc bikes. This means the VS will function on the freeway provided you avoid the fast lane and stratospheric mountain passes. Suspension and ride quality is about average as well. The suspension and 12 inch wheels soak up most bumps and give reasonable comfort. The VS can be hustled along but prefers a medium pace as it's more cruiser than corner carver. The front disc is massive for the scooter world at 273mm but surprisingly required a fair amount of effort to bring the bike to a halt.

Apart from a couple of minor niggles the VS is near perfect in the ease of use department. As mentioned the bike won't really take most full face helmets which is a bit of a shame as you really need a full face helmet on a bike that can top 100kph (62MPH). Because SYM opted for the large under seat storage area it means there's no glove box up front which certainly isn't a deal breaker for me. This large, low seat means comfortable use for a wide range of riders including those 6 foot plus giants among us. The VS also returned simply superb fuel economy of 2.6L/100kms (89MPG) on our test. This is one of the best results we've had yet for a bike over 100cc and means a tank full of gas could theoretically take you 228kms (142 Miles). Not bad when you consider a tank full of gas is only 6liters (1.6 gallons). Finally, despite weighing in at 120kgs the VS is still quite easy to move around and put on the center stand.

Summing up the SYM VS 150. SYM have really got a winner in the VS. Add this up. Attractive styling, class leading storage area, solid performance, incredible fuel economy and best of all…a superb price. In most markets the VS 150 is about the same money as the average 125cc bike. Basically you get a great looking bike that has more power, uses less fuel and costs less money than nearly all of its competitors. In the mid size scooter market the VS 150 is currently the best buy. Test ride it head to head with any similar priced 125cc scooter and there's not much chance you won't be riding home on the SYM.
Price
NZ $3,695 Euro €1,999
0-50km/h
5.2
0-100km/h
---
50-80km/h
8.6 Seconds
Lap Time
---
Fuel Economy
2.6L/100kms - 89MPG
Speedo Accuracy

50kph displayed = 50kph actual - 100kph displayed = 98 actual

Pros:

Fantastic value for money, best storage in class

Cons:
Brakes a bit spongy, won't fit most full face helmets
Handling
Performance
Fuel Consumption
Value for money
Ease of use
Styling
Build quality
Overall Score
Manufacturer Specifications
| | |
| --- | --- |
| Max power at shaft | 9.7 Kw (13 HP) @ 8000 rpm |
| Max torque | --- |
| Engine Type | Single-cylinder 4-stroke |
| Cylinder Capacity | 149.5 cc |
| Seat height | 770mm |
| Dry weight | 133kg |
| Kerb weight | --- |
| Fuel tank capacity | 6 liters |
| Starting | Electric |
| Transmission | "Twist and Go" Automatic Transmission (CVT) |
| Storage volume | n/a |
| Cooling | Air cooled |
| Bore X stroke | 57.4 x 57.8 mm |
| Compression ratio | --- |
| Chassis | Steel Tube |
| Front suspension | Telescopic fork |
| Rear suspension | Rear swing arm |
| Front brake | 273mm Disc |
| Rear brake | Drum |
| Front wheel/tyre | 110/80-12 |
| Rear wheel/tyre | 130/70-12 |
| Length | 1910 mm |
| Width | 740 mm |
| Wheelbase | 1345 mm |
| Max speed (km/hr) | 109km/h |
| Type approval | Euro3 |
| Consumption (ECE applicable text cycle) | --- |
| Consumption @km/h - km/l | --- |
| Audible Indicator | no |
| Full helmet storage | yes (very small size only) |
| Glove box | no |
| Fuel Guage | yes |
| Trip Meter | no |
| Seat release (via remote control) | no |
| Seat release (remote, ignition/switch) | no (yes in some countries) |
| Alarm | no |
...
written by north face boots , December 22, 2011
came puffing up alongside the Typhoon. It was ridiculously small and conceited, compared with our stately ship. I speculated as to what it was going to do. http://www.buy-thenorthface.or...s-c-5.html
vote down
Votes:

+0
...
written by moncler online , December 22, 2011
I will not be positive about 'the Spanish Main,' but it was hurrah for something O. I considered them very jolly fellows, and so indeed they were. One weather-beaten tar in particular http://www.piuminimoncler123.com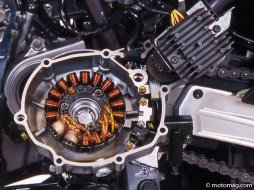 vote down
Votes:

+0
...
written by Daniel , June 13, 2011
The VS150 has 2 Valves, not 4. A great, utilitarian scooter. I'm getting one this week.
vote down
Votes:

+0
...
written by Jacki , April 02, 2011
I started off on a 50cc but it wasn't long before I outgrew it and went searching for a more powerful scooter. My big problem is that I'm only 155cm tall so I find it hard to touch the ground and feel safe on a larger scooter. Fortunately I discovered the Sym VS150. So many comments are about how good it is for a tall man but it's also great for a short lady like myself. It has superb balance so it's not a hassle to pull up at lights and I don't feel like I'm going to drop it!! I've gone for long rides country rides and I've also been on the highway doing 100kph. It prefers to cruise at 80kph but I've always felt comfortable what ever the speed. I've had so much fun on it and highly recommend the VS150 even if you are a shorty like myself.
vote down
Votes:

+3
...
written by Maruuk , November 23, 2008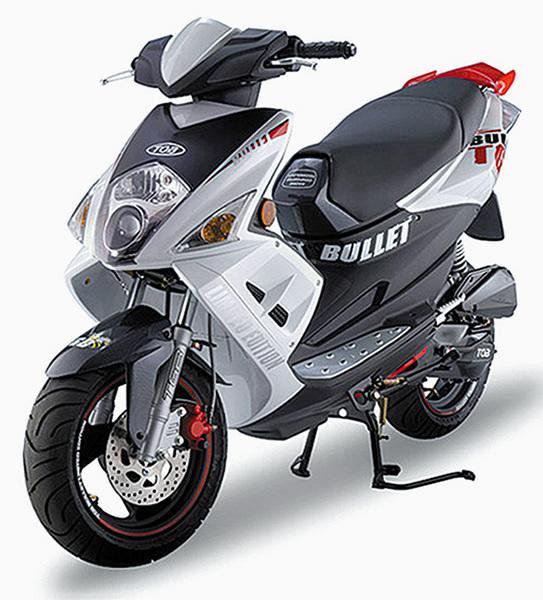 My first question was: is it 2-valve or 4-valve? The reviewer never got around to that. These days that is the delineator between efficiency and power, or wimpiness. I have make a wild guess that because it makes 13HP it MUST have 4 valves, but it would be nice if reviewers addressed the most basic of issues.
vote down
Sym Scooters For Sale
Votes:

+1
...
written by fat tony , August 29, 2008
Hi there,
Great review!
Can you please do a review on the SYM HD200?
Sym Scooter Reviews
vote down
Votes:

+2
Sym Vs 150 Scooter Manual Yamaha
SYM VS 150
Make Model

SYM Symphony VS 150

Year

2014

Engine

Single cylinder, 4-stroke, 4-valve, SOHC

Capacity

149.5 cc / 9.1 cub in.
Cooling System
Air cooled, forced

Compression Ratio

11.2:1
Lubrication
Dry sump
Engine Oil Capacity
1.05 L / 2.2 US pints
Transmission Oil Capacity
0.11 L / 0.23 US pints
Exhaust
Single

Fuel System

Carburetor (CV)

Ignition

CDI
Battery
12V 8.6 Ah
Spark Plug
NGK CR 8E
Starting
Electric & kick

Max Power

9.4 kW / 12.8 hp @ 8000 rpm

Max Torque

12.4 Nm / 1.26 kgf-m / 9.14 ft/lbs @ 6500 rpm
Clutch
Centrifugal

Transmission

CVT
Final Drive
Belt
Frame
Steel, monocuna split steel tube

Front Suspension

Telescopic fork

Rear Suspension

Single hydraulic shock absorber adjustable preload

Front Brakes

Hydraulic disc, 273 mm

Rear Brakes

Disc, 130 mm
Wheels
Aluminium

Front Tyre

110/80-12 61L

Rear Tyre

130/70-12 64L

Dimensions

Length: 1935 mm / 76.2 in.

Width: 680 mm / 26.8 in.

Height: 1130 mm / 44.5 in.

Wheelbase

1345 mm / 52.9 in.

Ground Clearance

130 mm / 5.1 in.

Seat Height

780 mm / 30.7 in.

Wet Weight

132 kg / 291 lbs

Fuel Capacity

5.5 L / 1.5 US gal

Average Fuel Consumption

2.3 L/100 km / 44 km/l / 103 US mpg
Top Speed
103 km/h / 64 mph
Climbing Capacity
28°
Colours
Black, White, Blue
Review
Thescooterreview, Scootersales
Long term review:
First week update : Picking up the VS from our local importer (thanks guys) it had 1 kilometer on the clock, nothing like something fresh out of the cargo crate. First impression showed that everything on the bike was in order. Not a single hickup or loose bolt from a sleep deprived night shift worker in Taiwan. Wearing it in over the first 500 km's can be painful, but I manged to hold myself back from the full throttle hyper warp-speed of this 15hp road rocket... barely!. No, but seriously speaking, it has a nice overall pickup that's quite linear. Good off the mark, progressive mid range, and nice top end, no real dips in its power curve or highlighted power areas, which in the real world is the perfect scenario.
So, since then I've actually taken it on a 4 hour highway trip from Auckland to Whakatane and back. A serious journey for a 150cc scooter, but it managed to hold an average speed of 90-110 Kph. Speed depends on wind direction and seating position. With your head down, peeking over the dashboard you can manage 105-110kph. Add a tail wind and this can sometimes be 115. Sitting upright you're looking at 95-100 kph and with a head wind 90kph. This bike may not be quite built for the highway touring but still manages to be very comfortable over long distance. Maybe 2-3 more horsepower could give you the tiny bit more freedom to comfortably sit around 100-110 without hiding behind the dash. We will look into a small mod later on that might well give the HP to allow for this.
Around town its great. Plenty of room, comfort, usability and storage space for Africa. Its lacking a key turn seat button (you have to use key) and possibly a front glove box, but to be honest these are only very small issues. I'm still looking for any problems to report and I'm sure I will find something along the way, as we put it through it's paces. Next month I will show you how much I can actually carry on this thing, and its a lot more than a set of library books, try a small recording studio! See you in a month...
Thescooterreview
Review:
The VS 150 has one major change over the scooter it replaces, increased power and torque. The numbers say it for themselves but 'seat of the pants' always helps explain the difference in a more easy to understand language.
Acceleration is plentiful on the VS 150 and its here that sets it apart from the 125. No slowing down for hills and no hiding from cars at the traffic lights, this scooter will in-still the confidence back in the right hand. The 4 valve motor is a gem which seems to have that nice balance, being able to rev but still pull like a train. Extra capacity should do this every time, but its nice to see that its translated here on our road ride. Top speed would be an easy 110 km/h, but its under this that counts and the VS scores well.
The 12 inch alloy wheels made for a compliant ride across any of the city streets I travelled. The VS is sharp enough to feel alive yet the suspension and wheel combination are supple enough to remain comfortable. In the true GT sense its really just the best of both worlds. On a scooter like this you don't want to be crashing over bumps, what your looking for is compliance and the VS has it in spades.
The seating position is extremely comfortable on the VS 150 and the reach to the bars is relaxed. If the trip calls for a pillion then the VS is large enough to accommodate this with ease. The extra power of the 150 cc motor, twin shocks and flip out foot pegs help cater for the request.
In Summary
The SYM VS 150 is very much the same same as the VS 125 it replaces. The difference being that it ups the anti in the power stakes.
But why would you be looking for change here? The VS 150 is what you would call a box ticker. Euro styling, great power, heaps of storage with a ride quality that makes commuting comfortable and compliant.
The VS is fuss free scootering that wont ask the world but will certainly try and provide it in return. Add to this a 4 year Select Scoota warranty and the bullet proof reputation that SYM brings to the table. You actually wonder why we all haven't got a VS in the garage.
Allen Drysdale